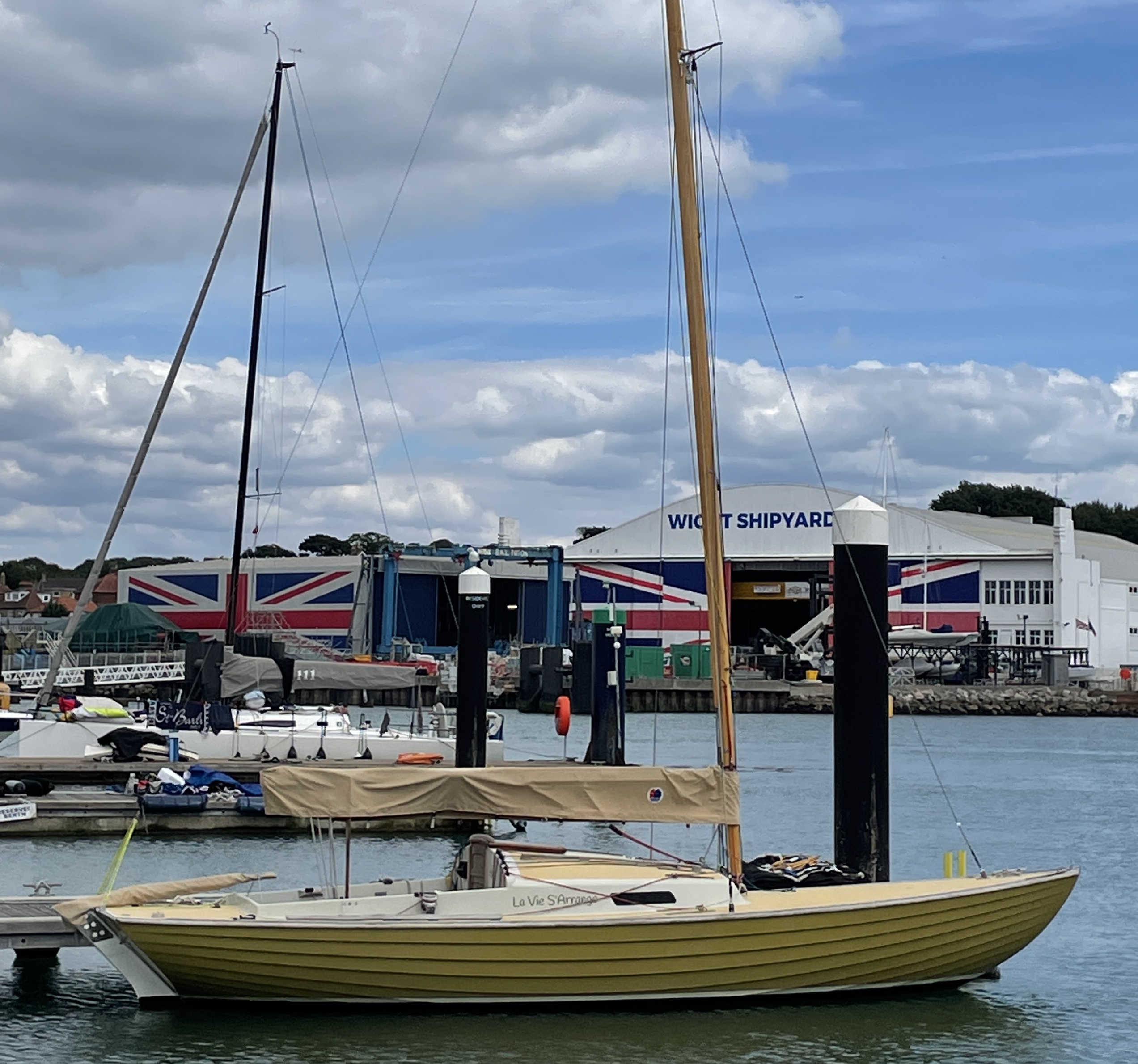 La Vie S'arrange
£8,995 + Trailer £1,000
Built By: Danish Built
| | |
| --- | --- |
| Our Ref | 20220825 |
| Sail N0. | GBR679 |
| | |
| --- | --- |
| Location | Cowes |
| Year Built | 1977 |
1977 GRP Danish Built Excellent Condition
3 sets of sails 2019, 2013 plus one older set
2 spinnakers
very recent new mast by Collars
Tack Tik instrument set Speed, depth, wind & wind direction
Internal cushions
Boarding ladder
Show more
Paddle
Full length cover plus boom & tiller covers all virtually as new
2016 Tohatsu 3.5HP four stroke lightly used
Keel removed, galvanised and new stainless steel bolts
new anchor & warp
2019 survey available to view
The boat was not used for over two years in the lock down period and kept in dry barn storage, hence the recent set of sails, outboard etc. have had little use.
Galvanised 4 wheel trailer available separately £1000
Available to view in dry storage in Cowes. 
Show Less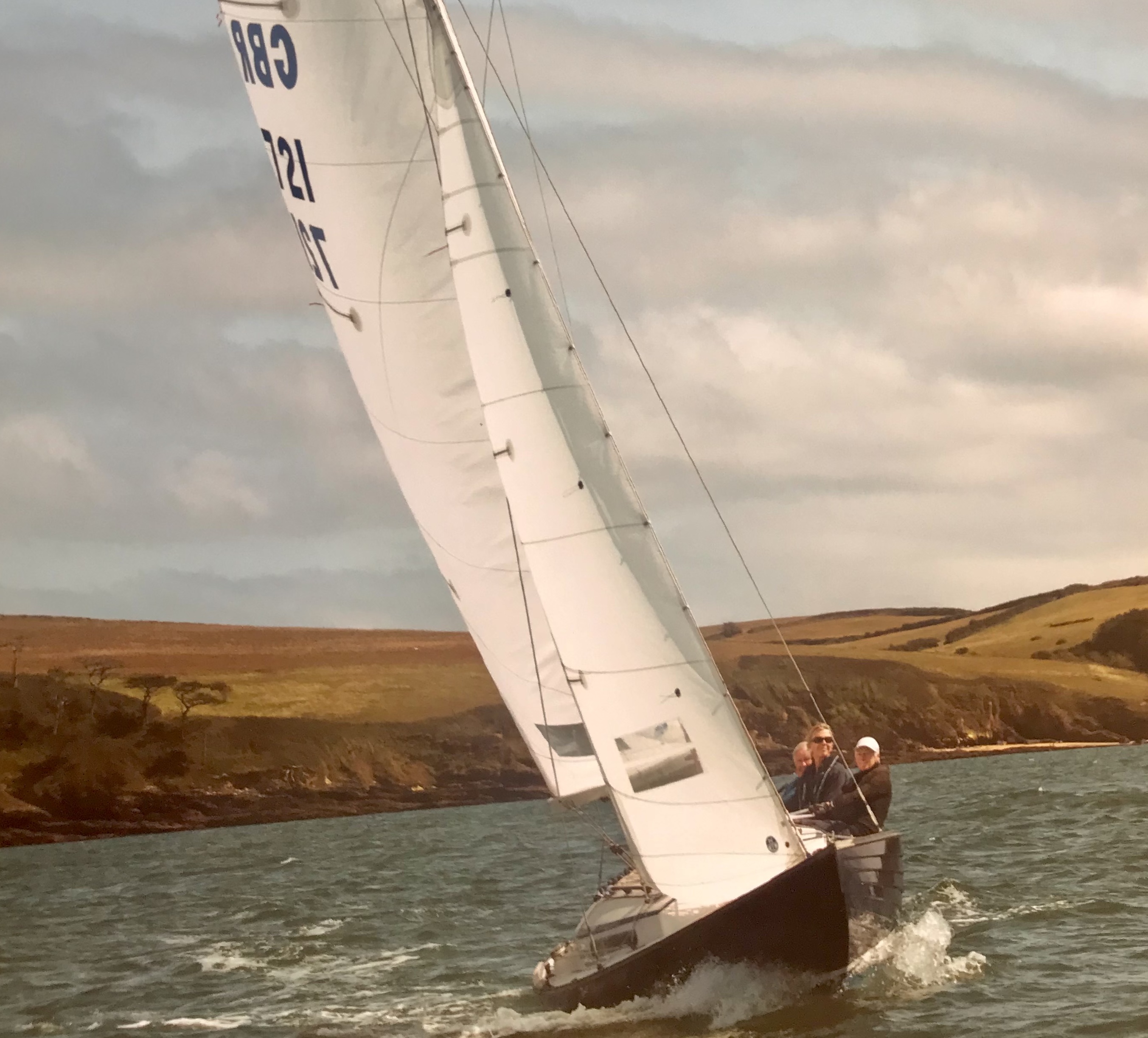 Bellatrix
£22,000
Built By: Folkebadcentralen, Denmark
| | |
| --- | --- |
| Our Ref | 20220821 |
| Sail No | F721 |
| | |
| --- | --- |
| Location | Lymington |
| Year Built | 2001 |
Built 2001 by Folkebad Centralen in dark blue GRP.
Competitively raced in Falmouth, now out of the water in Lymington. The fittings have been extensively renewed so that now most fittings are Harken, Dyneema halyards and tapered spinnaker sheets etc.
Show more
North sails (main jib and spinnaker) new 2020, plus spare set of used Sanders sails.
New road trailer 2019/20
Mercury 3.3 2-stroke outboard.
More photos available …
Show Less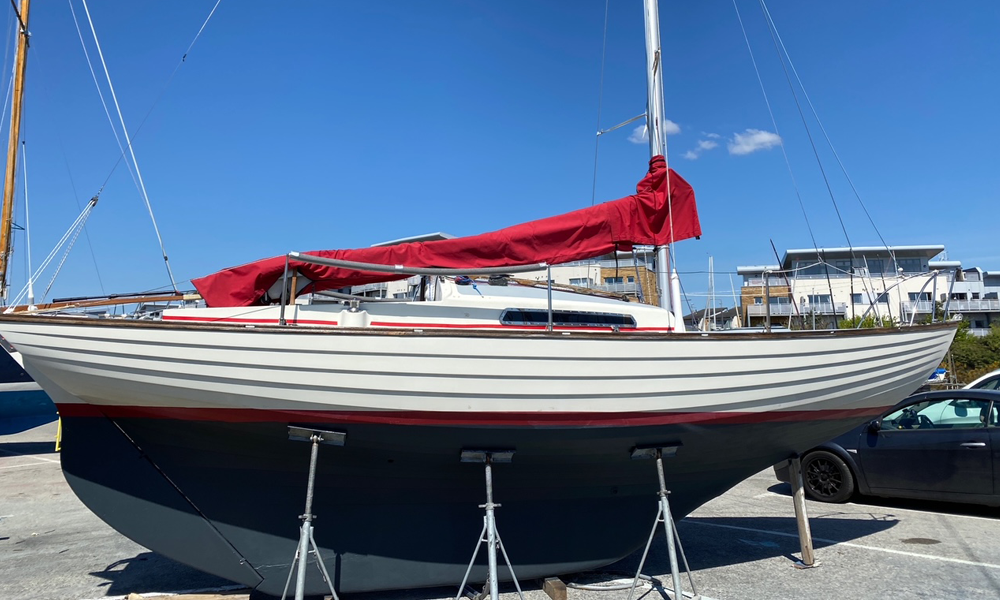 Helga
POA
Built By: LM glasfiber a/s – DK6640 Lundersko, Denmark
| | |
| --- | --- |
| Our Ref | 20220712 |
| Sail No | 654 |
| | |
| --- | --- |
| Location | Poole Yacht Club |
| Year Built | 1990 |
Description:
Construction: Built by LM glasfiber a/s – DK6640 Lundersko, Denmark, hull #718 in 1990. Fractional rig sloop with long keel and self-draining cockpit. Sail #:654, white hull, grey deck, red striping, grey Seajet Shogun anti-foul.
Show more
Machinery: Torqueedo 1103 long shaft motor with two 915Wh batteries. AGM Leisure 12v 95 Ahr domestic battery, 3 interior LED cabin lights, fused control box with Spectra battery state indicator/controller and Nasa 20W solar panel, 12v power socket, Seaflo electrical and Whale compact manual bilge pumps. Engine/motor sledge and SS transom bracket.
Spars & Sails: John Mast mast, boom and standing rigging. Masthead Hawk Windex with VHS whip aerial, all round white anchor light. Kemp main, genoa and cross-wind sail, with pulpit turtle, and spinnaker (age unknown) with hatch launch bag. Double taper alloy spinnaker pole, and extendable whisker pole. Mainsail cover, genoa 'grab-bag'.
Deck equipment: Factory fitted opening Houdini foredeck hatch, stem head anchor roller, 15 kg Delta anchor + 10m anchor chain/20m 12mm warp, Anderson #10 genoa sheet winches x2, cabin roof mounted Antel #9m winches x2, boat hook. Barton 4:1 mainsheet blocks, and spinnaker control blocks. Fenders x6, and mooring warps x2.
Safety equipment: Standard Horizon fixed waterproof DSC VHF radio with cockpit extension speaker, ICOM hand held VHS waterproof radio and charger. Nasa Clipper Duo log/depth sounder, Plastimo Mini Contest compass, deck navigation lights, SS stanchions and safety lines. Emergency Glowmex aft deck mounted aerial, Horseshoe lifebuoy with floating safety line. Fire extinguisher.
Navigational equipment: Garmin Echomap Plus. Weems & Plath Bluewater clock & barometer. Salter count down/count up race timer.
Standard integrated Origo spirit stove/navigation table. Full set of bunk cushions, Branq mobile toilet. Silva clinometer. Boom crutch/paddle.
Spray hood also available if required.
Remarks: Helga has enjoyed a comprehensive refurbishment since being purchased by the current owner. She is available for viewing in the Poole Yacht Club Haven.
Show Less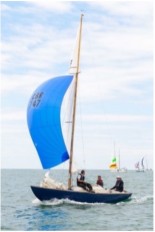 Ajax
£16,000
Built By: Folkebadcentralen, Denmark
| | |
| --- | --- |
| Our Ref | 20220414 |
| Sail No | F747 |
| | |
| --- | --- |
| Location | Yarmouth |
| Year Built | 1976 |
Ajax is in very good condition and ready to race *. She is very competitive, winning the Prince Consort race (Folkboat Fleet) twice and finishing 5th and 6th in Folkboat week in recent years. 2018 5th in Folkboat Week. 2019 1st Prince Consort Race (Folkboat Fleet). 2019 6th in Folkboat Week. 2020 Did not Race due to COVID. 2021 1st Prince Consort Race. (Folkboat Fleet)
Show more
Sails
Main sail: North Sails, new 2021 – also standby North Sails available
Jib: North Sails, new 2021 – also standby North Sails available
Spinnaker: North Sails, new 2019 – also standby available
Instruments: Depth (Through Hull), Log, Compass, Handheld GPS
Mast: Varnished wood – newly varnished 2021
Boom: Varnished wood
Spinnaker pole: Tapered aluminium
Whisker pole: Long wooden
Engine: Honda Outboard – 2.3HP air cooled long shaft
Road Trailer: Recent Refurb on brakes and brake cables
Show Less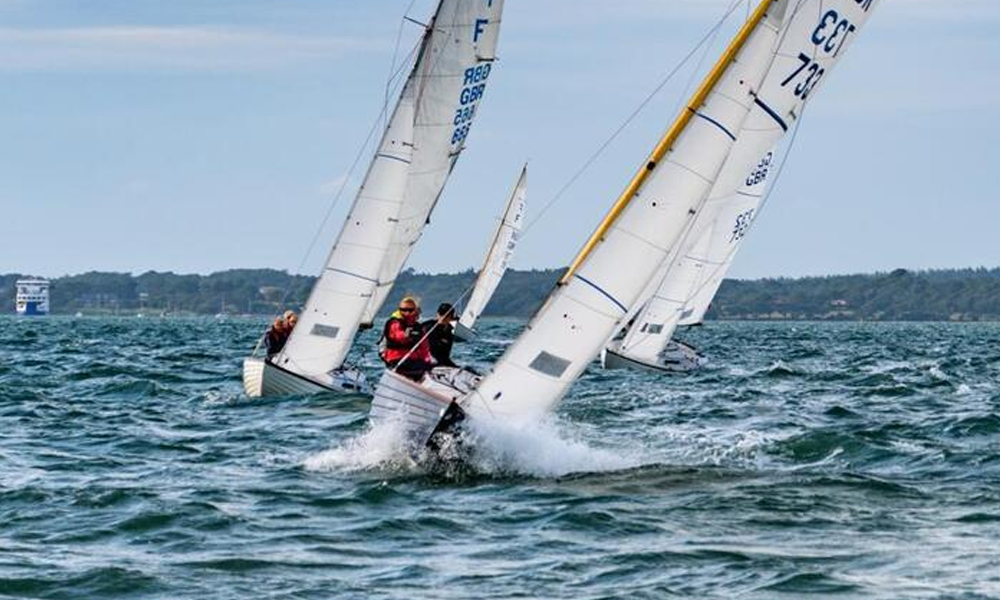 Freedom
£22,950
Built By: Folkebad Centralen (Denmark)
| | |
| --- | --- |
| Our Ref | 20220607 |
| Sail No | GBR F 733 |
| | |
| --- | --- |
| Location | Lymington |
| Year Built | 2004 |
Built by Folkebad (Denmark) in 2004, the Nordic Folkboat is popular as both a racing yacht and cruising yacht, with a traditional classic look and sails like a dream.
Freedom is a proven race-winner in the Solent.  She is constructed in GRP fibreglass, with a wooden mast and jib-pole, and aluminium spinnaker pole.  After stripping all antifoul, refairing the keel, and repainting with epoxy, she has been dry-sailed this year.

Show more
Her hull and keel are in brand new condition, ideal for racing.  All topside woodwork was reconditioned in 2021, and looks as new.  She carries a fractional spinnaker, new in 2021, and jib and main are new in 2022.  The main halyard and outhauls were replaced with Dyneema in 2021.  She weighs in at 1960kg, less than 30kg over the minimum weight under class racing rules.  Comes with a spare cruising main and jib.  For cruising, a custom made infill creates a large, comfortable double berth.  Price includes a Harbeck road trailer and cradle in excellent condition.
Show Less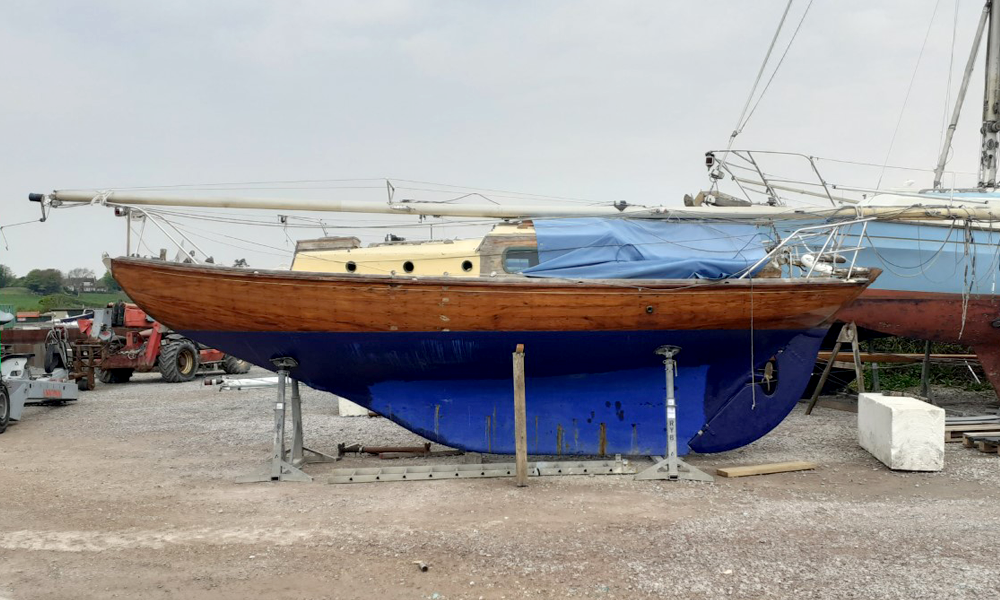 Tiptoe
£1,000
Built By: Parhams, Emsworth
| | |
| --- | --- |
| Our Ref | 20220503 |
| Sail No | FB333 |
| | |
| --- | --- |
| Location | Yarmouth |
| Year Built | 1965 |
1965 folkboat built by Parham. Mahogany on Oak, the topsides splined planking varnished. Recently antifouled.
The boat was damaged in the last storm and requires restoration although the Hull is good.
Originally 3 Berth Layout, 3rd berth now provides storage.
Show more
Stainless Steel Pushpit and Pulpit, 4 Bronze Winches, Sails including Spinnaker and Spinnaker Pole, Plough Anchor on Chain plus Kedge Chain and Warp, Echo Sounder, Baby Blake Toilet, Gimballed Stove. All requires work.
New bilge pump and float switch. Good Battery.
Yanmar 1GM 10 Diesel currently under repair.
Currently I am working on the boat ashore but it is going back onto its pontoon berth in Yarmouth Harbour on 21st May.
Show Less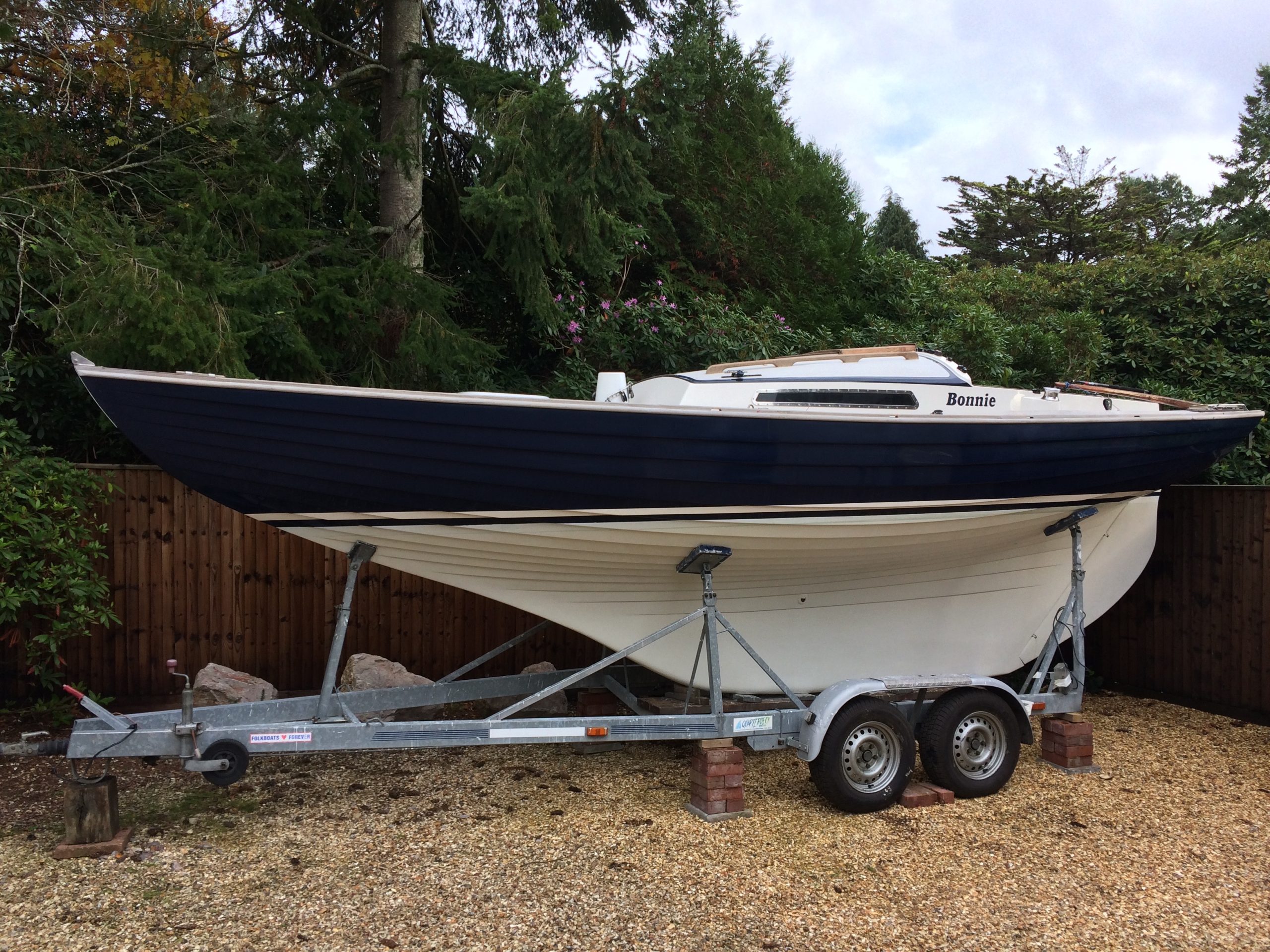 Bonnie
SOLD
Built By:Folkebad Centralen Denmark
| | |
| --- | --- |
| Our Ref | 20230301 |
| Sail No | GBR 736 |
| | |
| --- | --- |
| Location | Lymington |
| Year Built | 2004 |
Bonnie is a well-known Lymington Nordic Folkboat with one owner from new.
She was the Southampton Boat Show exhibit in 2004.
The boat has been meticulously maintained by the owner and updated over the years to a full race specification. Antifoul has been stripped and reapplied every year to prevent build up, and she has been stored under a winter cover with a dehumidifier and heater installed. The mast and rig have been stored separately in a local barn each winter. This boat is in exceptional condition, and every attention has been made to ensure all sail controls function effortlessly.
She has had a long and successful racing record in both one-design and handicap racing culminating in a handicap win in the Royal Lymington Pottership Trophy in 2022.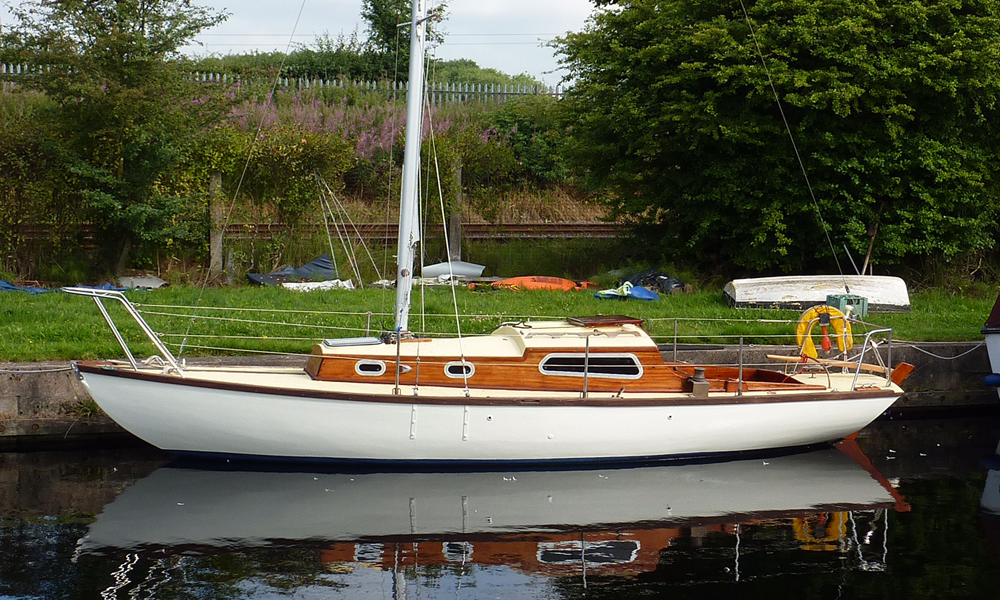 Delphin of Itchenor
Reduced to £6,000
Built By: Medina Yacht Company, Cowes
| | |
| --- | --- |
| Our Ref | 20210824 |
| Sail No | FB202 |
| | |
| --- | --- |
| Location | Warrington |
| Year Built | 1962 |
Fully restored classic wooden Folkboat. Built in Cowes in 1962 by the Medina Yacht Company. Sail number FB202
Mahogany planks on oak. Sheathed marine ply decks. New*, unused 1GM10 10hp Inboard Diesel. 3 – 4 berths.
Lying by the Mersey at Fiddlers Ferry, Warrington
Show more
She's been in my ownership for the past 21years.
Fully rebuilt and commissioned sum 20 years ago, following a lengthy spell on the hard. (some 15 years). Full details available on request, supported by photographs. Including new keel bolts, new oak floors etc. entire new cockpit, coach roof etc…
I've just completed a major overhaul over the last 4 years (part time!) on the hard.
She is rot free and leak free and ready for a new adventure
Do not mistake this for one of the many aging wooden yachts out there that are down on their luck having been neglected and abandoned to their fate. This little Folkboat is fully restored. I've worked on her for 20 years. I know every inch of her. Inside and out. Structurally she is totally sound. Aesthetically superb.
The only area that lets her down are the sails. They are all past their best and would benefit from a new suit.
Show Less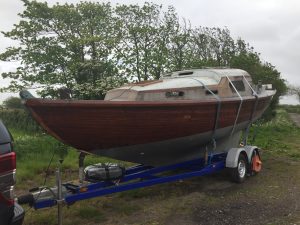 Argo
£500 negotiable
Built By:Kulturwaren, Berlin, E Germany
| | |
| --- | --- |
| Our Ref | 20230315 |
| Sail No | FB 338 |
| | |
| --- | --- |
| Location | Cumbria |
| Year Built | 1965 |
Argo is an East German built Folkboat, circa 1965, builder unknown to myself.  Larch on oak frames, carvel, heavy gunwales with doghouse.
Bare weight is slightly heavier than UK built vessels of same vintage. The doghouse was originally covered in dark red canvas on roof section.
No engine in place- has prop shaft through to stern gland.
Hull in excellent condition given her age.
Have all internal ply woodwork for use as templates, same for windows and seating cushions.
Original wooden mast has been replaced before my time, with a Z Spars section(9metres plus) and boom.
Standing and most running rigging.
Main and jib
New Blakes seacocks (3 off) to replace originals (which I think I still have).
Rudder is off vessel at present
Hull is sitting on double axle braked trailer, uprated to carry full restored vessel weight- this will allow transport from present location.
This trailer will be surplus to my needs once Argo has been moved and I am open to offers as a separate sale if anyone interested.
More photographs available from Seller
KANGA
This boat is going to be scrapped
Built By:W.L.Bussell & Co, Weymouth
| | |
| --- | --- |
| Our Ref | 202300417 |
| Sail No | FB 38 |
| | |
| --- | --- |
| Location | Weymouth |
| Year Built | 1956 |
Kanga will be scrapped by Weymouth Sailing Club very soon, however they are happy for anyone with a suitable trailer to tow her away. Alternatively there may be fittings that could be used on a British Folkboat, such as brass scuttles and winches. Although "Kanga" is in very poor condition it is believed that her wooden mast and fittings are in better condition having have been kept undercover.